---
This is a guest post written by Rob Hardy, originally published on his website Filmmaker Freedom. He now runs Ungated Media, where he helps creatives of all types make 1000 true fans a reality.
---
Music is responsible for much of what an audience feels when they watch a film or video. It's an emotional amplifier, and one of the most powerful tools in our creative arsenal.
So if you're serious about creating work that resonates, the last thing you want is generic stock music.
Luckily, in 2022, there are more licensing companies than you could count on five hands. And it feels like there's at least one new platform popping up every month.
And though I haven't used all of them, I have used quite a few—for everything from personal film projects to corporate shoots, and from YouTube channels to podcasts.
This post explores my favorite platforms, what I like about them, and some of the shortfalls that have bugged me.
Before we get into my picks, here are the criteria needed for a company to make the list.
The quality of the music has to be excellent. It has to be sourced from musicians who clearly care about their craft just as much as I care about mine.
The interface must be clean and intuitive and help me find what I'm looking for. There's nothing more annoying than scrolling endlessly through a bunch of irrelevant songs.
The pricing must be flexible and reasonable. I work primarily in the indie film and solo creator spaces, which means tiny budgets. For corporate or commercial shooters, price might not be much of a sticking point, but it is for me and for readers of this site.
So with all of that out of the way, let's get to the good stuff! Here are the top eight music licensing sites I recommend in 2022 if your goal is high quality, emotive music.
---
The TLDR Version
This article is what you might call… chonky. It's grown quite a bit over the years as I've upgraded it, and now it's at a point where it's a bit unwieldy.
So for those of you who are short on time, here are the services I recommend, along with a quick note about why I like them.
If you'd like to go deeper into these services, I've included a ton of detail below.
Important Note: Even though this article has been up for years, I recently made the decision to partner with a few of the companies on this list as an affiliate. Meaning, if you buy music through one of my links, I get a small commission. It costs you nothing extra, but helps me support this site and keep the article up to date as the music space continues to change. Thanks in advance! -Rob 😊
---
Music Vine – The best stock music for video professionals
For years, Music Vine has been my favorite place for buying individual song licenses. But with the release of their two subscription options last year, Music Vine has become my top choice for both single-track licensing and "all you can eat" subscriptions.
The initial draw for me was the interface, which is equal parts beautiful and functional. There are loads of search modifiers, including some uniquely useful ones, and all sorts of curated collections. When it comes to sorting and filtering and finding the perfect song, Music Vine is the best on the market, hands down.
Besides their beautiful, functional platform, the thing that really sets Music Vine apart is their highly-curated selection of music for licensing from indie artists. The library isn't huge, but it's super high quality, and you can nearly always feel that the musicians care about their craft. This isn't "phoned in" stock music. This is the real deal.
And whether you choose to license a single track or grab a subscription, that music is affordable for your particular usage (ie. personal, commercial, broadcast, etc) without ever shortchanging the musicians. That's a big selling point for me.
A quick heads up: I have a business relationship with Music Vine. They've been a long time sponsor of the Filmmaker Freedom podcast, so I might be biased in my assessment here. But it's the service I've used the most, and it's the one I find myself recommending most often to my filmmaking peeps.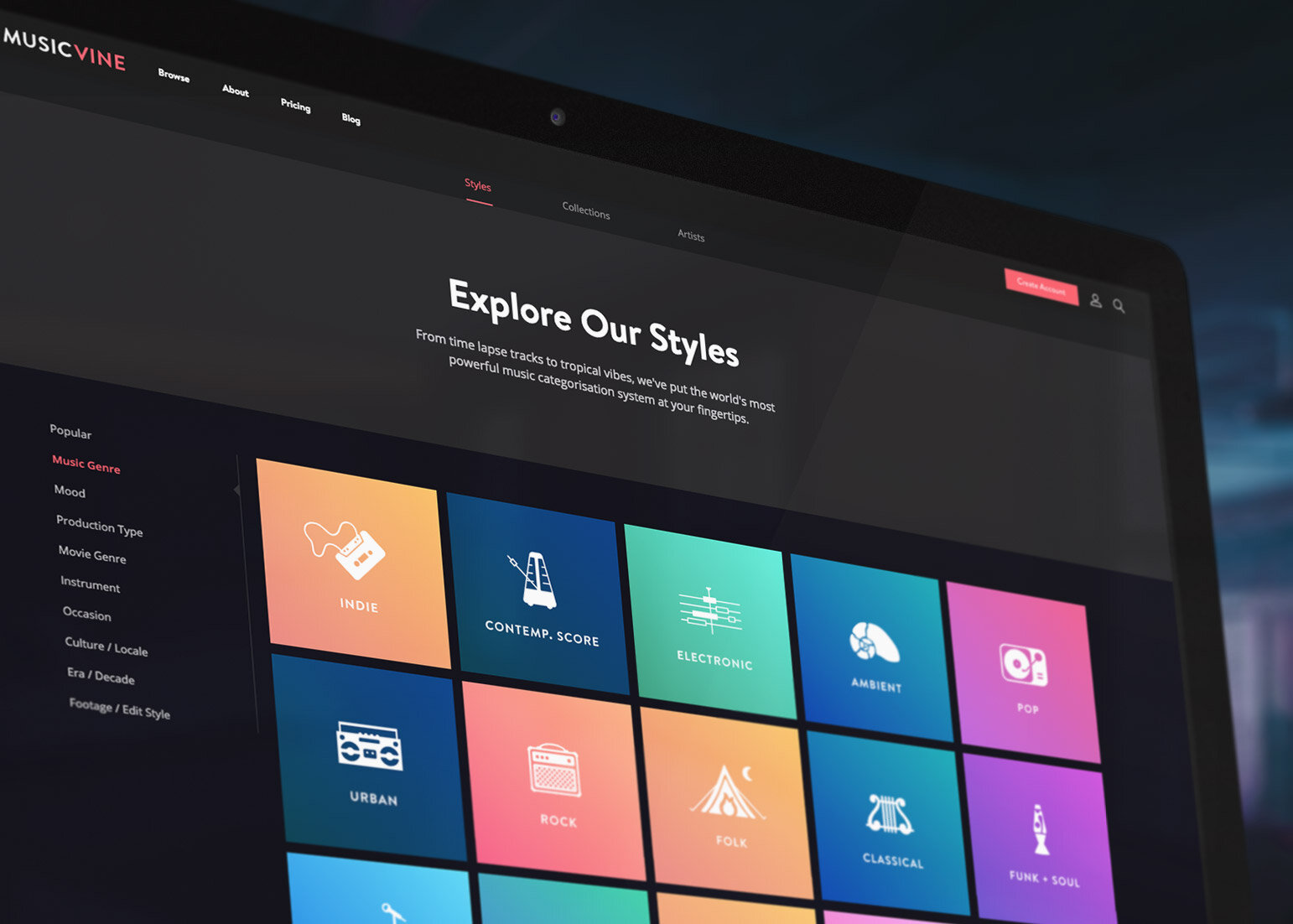 The good
A clean, simple interface that's a pure delight to use. It's damn beautiful, but it doesn't let that beauty get in the way of functionality.
Speaking of functionality, Music Vine has the most robust set of search filters for finding exactly the right song quickly. Everybody offers filters like mood, genre, instrument, etc. But Music Vine adds film genre, era/decade, culture/locale, edit style, and occasion. Never has it been so easy to find upbeat Celtic music, or tunes that are a perfect fit for fast-paced Halloween content. Plus there's some nifty technology under the hood that makes your searches even more seamless. Read more here.
Super-flexible licensing and pricing. Music Vine has a TON of licensing options, ranging from individual licenses for personal projects all the way up to subscriptions for both , and everything in between. A good option, all of their subscriptions let you generate unlimited licenses and start as low as $14 per month.
Incredible music that more than matches their pricier competitors. Which is to say, the quality is objectively great. Music Vine pride themselves on sourcing talent and curating the best stuff for their platform.
They have a wide, rather eclectic range of music to choose from. As someone who loves more esoteric types of music (gypsy jazz for the win!), there's a diversity to Music Vine's library that I find really appealing. While some music libraries cater heavily to what's "popular" or "trending," Music Vine doesn't shy away letting artists upload unique, genre-bending, experimental songs. This makes them one of the most interesting music syncing companies on the market.
As of 2022, they have a new "auto-clear" feature for automatically releasing copyright claims on YouTube. You can whitelist your entire channel or a specific video, and not have to worry about copyright claims taking down your monetization for hours or days. The Auto Clear system works within minutes.
The not-so-good
Like I mentioned earlier, the catalog isn't as big as some other services, with about 7,000 songs in total. What's there is great, and more music is being added on a consistent basis, but it's one of the smaller libraries on this list.
Despite working closely with the artists on their plaform, Music Vine doesn't offer bespoke music services as some of the others on this list do. So if you're interested in custom music for a film or commercial, Marmoset (listed below) is the better choice.
---
Uppbeat – Totally free music for creators!
(Rob's affiliate link) Uppbeat is the newest addition to the list in 2022. And its value proposition—free music for creators—is unbeatable.
When you sign up for an account, you can download 10 free tracks per month, and use them on content distributed through open social/video platforms. Basically, anything that's not paid advertising or corporate video. If you need more than 10 tracks a month, or if you want to access the full library of music (which also includes sound effects), you can upgrade to Uppbeat's premium plan at $6.99/month. And recently, they've introduced both 3-year plans and lifetime plans for $99 and $199 respectively. So not only is the free plan super generous, but the paid options are the most affordable of the subscription options.
Now, there are a few places to get free music online, but most of them are flooded with mediocre work. The music on Uppbeat, however, is top notch, not to mention well-curated and organized. That's because the platform, and the music itself, comes from the same developers and artists behind Music Vine. They basically split their existing service in half to serve two different markets—professionals and creators. So creators are benefitting from the years of work that have gone into making the original Music Vine so successful, because the two services share the same DNA.
My one big concern when chatting with Lewis and Matt (Music Vine's founders) was about whether this business model devalues the work of musicians, and makes it impossible for them to get paid. I learned that Uppbeat works on a straight revenue share model, where the revenue from paid subscriptions is pooled, then divvied out based on downloads across the entire platform. So even if you download a bunch of songs for free, those artists are still being compensated. Whether it's good compensation is another question. But my guess is it'll only get better with time as the platform grows.
The good
It's free. Like, legitimately free! Once you sign up, you can download 10 free tracks per month, and use them across any creative content (video, audio, streaming) distributed on open social/video platforms. If you need more, you can upgrade for $6.99/month.
The quality of the music is legitimately solid, as it's many of the same artists/tracks from Music Vine. They clearly have invested in a music supervisor. Unlike other free/cheap music solutions, you don't have to dig through mountains of garbage to find that one rare gem you're looking for.
They now have a sound effects & clips library for premium users. It provides copyright-free versions of popular meme sounds and iconic clips that are often used in creator content.
This platform is designed purely for creators, and as such, is simple and straightforward. Most of the other platforms listed here attempt to serve pro/broadcast markets in addition to creators, and it ends up making the licensing options convoluted.
Speaking of which, Uppbeat's got a good system for auto-clearing YouTube copyright claims, so you don't need to worry about any loss of earnings or demonetization of your content.
The not-so-good
As it's a brand new platform, there's not a huge selection of music yet. I've been told they're working on growing it quickly in the coming months.
Uppbeat's license doesn't cover commercial projects. If you're looking to use this music for paid advertising, corporate video, broadcast, or high-end film and TV, you'll need to go through Music Vine instead.
It doesn't have granular filters and controls for sorting through the library. You get the basics (duration, vocals, energy), but some of Music Vine's cooler sorting options (era, culture, genre) are not in there yet.
---
Audiio – Best long-term value for YouTubers and Professionals
Audiio (Rob's affiliate link) is another impressive newcomer to the music licensing scene.
They launched in early 2020 with something I've never seen from a licensing company—a lifetime deal. I don't know about you, but I'm wary of subscription overload, and I'm generally trying to remove them from my life. So when I saw the deal, I jumped on it, not knowing how good the service would be. To my delight, the quality of the music is super high. And they add new music frequently, so the deal is indeed getting more valuable with time. Later in 2020, they launched another lifetime deal, this time for a library of sound effects. I jumped on that one too, and was again pleasantly surprised.
As of April 2022, you can still get both of these lifetime deals—$299 for music, and $199 for SFX. If you plan on producing a lot of content over the next year or three, I suspect this'll be a bargain for you. I don't know how long they'll offer this, though, or if they'll raise the price, so I'd jump in sooner rather than later.
Now, I should mention that these lifetime deals don't cover broadcast, OTT platforms (Amazon Prime, Netflix, Hulu, etc) or theatrical. If you're a filmmaker submitting to festivals/self-distributing, doing work for clients, or working in broadcast, Audiio's new Pro subscription is a better deal and fit whether you're a music supervisor or not. Not only does the license cover any distribution channel worldwide, but it comes with unlimited access to both the music and SFX libraries.
The Pro subscription is normally $199 annually, but as of April 2022, you can use the code EARLYADOPTER to knock the price down to $159 a year.
The Good
The quality of music is top notch. To my knowledge, Audiio is one of the only music licensing websites that works with high-end labels (Capital, Universal Music Group, etc.) which makes them one of the best music libraries available. So what's there is quality, and it's mixed/mastered well.
Lifetime Membership is still available for early adopters. For those of you who feel overloaded with subscriptions, this is a rare chance to pay a one-time fee for unlimited, lifetime access to the library. Pretty sure this is a limited time thing, though, so definitely jump on it soon if that's appealing.
Their new Pro subscription includes unlimited music/SFX, and the license covers everything a music supervisor would need. If you do corporate work, broadcast, or need to distribute across a variety of channels, the subscription is a better fit than lifetime.
Their subscription offering, in addition to covering everything and including sound effects, is also the most affordable on this list. Most others are $200+ per year, but the code EARLYADOPTER makes theirs $159/year.
The Not-So-Good
Relatively small catalog. The Audiio music catalog is around 6,000 songs as of early 2021 and they add around 200 new songs each month.
Instrumentals but not stems. You can find lyrical and instrumental versions of most songs in the Audiio catalog, however they do not currently offer individual stem files. Super control freaks will want to look at other platforms.
You have to create an account to download trial tracks. If you want to download songs to test in your project, you have to create a login which is a bit of an extra step.
---
Filmstro – Insane amounts of customization options for each song
(Rob's affiliate link) Filmstro is the first new addition to this list since 2018, but I wish I'd found and added them sooner. Filmstro's killer feature is that every single track in their library is customizable, either through a standalone app or with the FCPX/Premiere plugins. Basically, once you to find the right music, you can keyframe three unique properties (momentum, depth, and power) to match it perfectly to your scene or project.
For instance, if you're working on a scene that starts quiet, then the drama slowly ramps up, Filmstro allows you to increase the song's intensity at the same pace. Then, at the most triumphant moment in your scene, you can have the song reach its climax as well. All with precise timing. Forget a music supervisor, it's the closest you'll get to a custom score without hiring a composer.
Now, as of early 2021, you can also just license songs directly, without any of the customization features. But for me, the ability to precisely tailor a song to your film/video is where Filmstro really shines. So for those of you who are tired of stock libraries, and who want more control, this is my top recommendation.
The good
The ability to precisely tailor music to your scene/film using Filmstro's desktop app or FCPX & Premiere plugins.
The customization features are SUPER simple, while still being powerful and diverse enough to create unique combinations. If you know how to keyframe, you already have all the skills you need.
Like most others, Filmstro operates on a subscription model, so prolific creators (especially on YouTube) can get unlimited music for a low yearly price.
All of Filmstro's music is exclusive, and you won't find it on other libraries. It's all really high quality stuff, too. There's nothing worse than finding music you want and it turns out to be non-exclusive.
The Filmstro library is pre-cleared on YouTube. So you shouldn't ever run into copyright warnings or takedowns or anything like that.
The not-so-good
Fewer tracks than other platforms, due to the proprietary way the music is recorded and ingested.
Many of the tracks are on the shorter side. So you wouldn't want to rely on it for scoring longer pieces.
The interface for sorting and filtering the music library is a bit rough and unintuitive.
Audio watermarks when previewing tracks. Ugh.
The pricing is reasonable if you're just licensing for YouTube. But at $500/year or $75/month for Film/TV licensing, it's definitely a bit pricier than the other options on this list for indie filmmakers. That said, you can pay for a month or two while you're in post, then cancel, which is still way less than a freelance composer.
---
Artlist – The OG music subscription platform
In the "unlimited music" space, Artlist (Rob's affiliate link) is the OG. They're the ones who seemingly started this mad industry dash towards subscriptions back in early 2016.
And since those early days, Artlist has added a ton of additional value and optionality to their offerings. For a flat, yearly fee of $199, you get unlimited access to its entire catalogue of curated music (they've also added sound effects). And because everything in their library is universally, globally licensed, you can use it all in any kind of video project you want. From films to YouTube videos to commercials to corporate videos, it's all fair game, without any additional fees. And if you have no intention of creating commercial projects, Artlist also has a Personal Plan, which includes licensing for personal social channels, and costs $120 a year or $10 a month.
That's really the main selling point of Artlist. You could download 10 songs during your yearly subscription, or 100 songs. The price would be exactly the same, which makes it a steal for people who work on lots of projects thought the year, or who create for YouTube.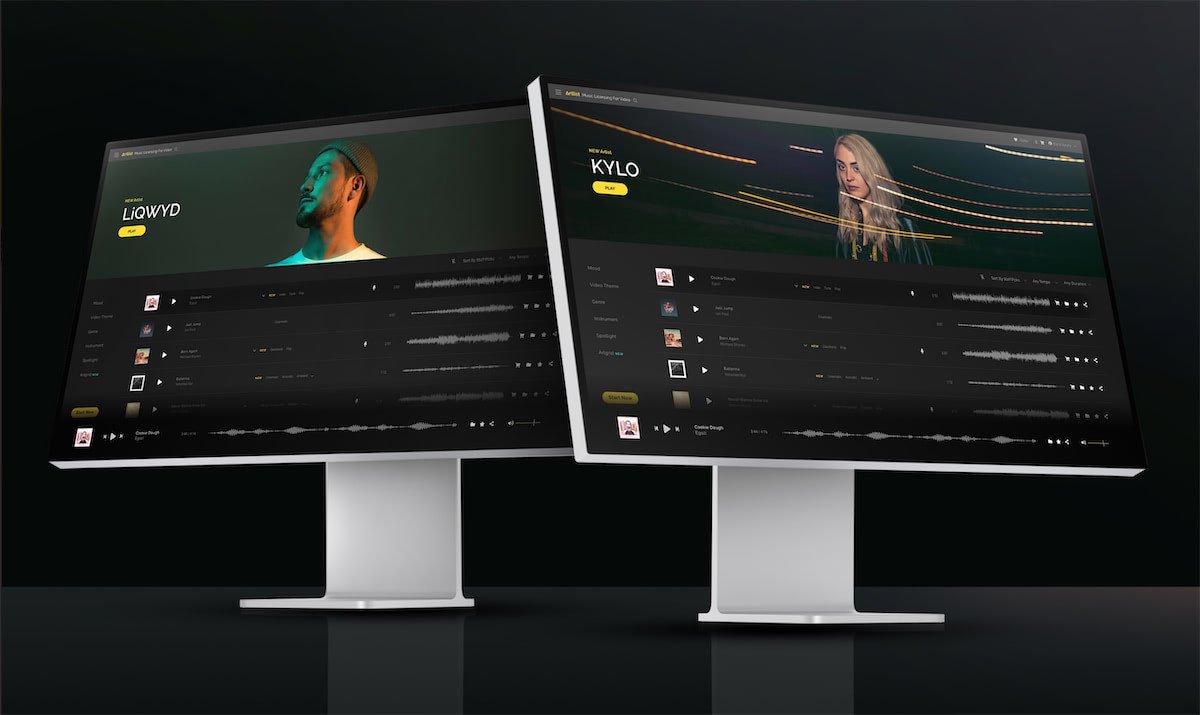 The good
Unlimited music for as long as you subscribe. I can't stress how huge this is, especially for corporate filmmakers, wedding filmmakers, YouTubers, etc. Basically, if you create work in high volume and want to license good music for everything, Artlist is a no-brainer.
Sound effects included in all subscriptions! This is one of the biggest additions they've made in recent years.
Price. Artlist is $199/year for Unlimited, or $119/year for Personal. Given how large the library is, and the inclusion of sound effects, both of these options offer incredible value.
A large library that's growing insanely fast. When I first wrote about Artlist in early 2016, they had about 1000 songs on the platform. As of early 2022, their library has more than 22,000 songs, along with 27,000 sound effects.
The not-so-good
The licenses aren't uniform. In 2018, I wanted to use some Artlist songs for my podcast, but after talking with one of the co-founders, I learned that only a handful of songs on the platform were properly licensed for that use case. This won't affect anyone looking for music for their films and videos, but it's something to be aware of if you produce multiple types of media. (P.S. It's possible this has changed over the last few years)
With the rate they've added new music to the platform, not all of it is super high quality, and it's not always categorized well. Don't get me wrong, there's no bad music here—most of it is damn good. But the larger it gets, the more it feels like I'm searching for gems in a sea of slightly above-average music, or encountering the same songs over and over, no matter how I change the search criteria. Not a big deal, but I hope they keep their curation standards high, and keep everything well categorized.
I've heard from several YouTube creators that they're getting hit with more and more copyright claims when they use Artlist music. This is something that's pretty unavoidable when you use pre-licensed music on YouTube, and it can generally be sorted out by disputing the claim and showing your license. But the fact that it's seemingly happening more often will be a sticking point for YT creators who rely on their videos for ad revenue. Those copyright claims can take days or weeks to resolve, which can put a big dent in your revenue.
---
Marmoset – Rad music you won't find anywhere else
Marmoset is another of those companies that just exudes quality and coolness. Rooted in Portland, Marmoset maintains a handpicked roster of independent artists (mostly from the pacific northwest), and makes their music available on a beautifully-crafted licensing platform.
I can't stress just how awesome this platform is in terms of its usability, especially when it comes to its search functionality. Their project and emotion-driven search algorithms are truly a fantastic and useful alternative to searching by mood or genre.
The good
Marmoset makes it really easy to search based on the emotion you're trying to evoke. They have unique search modifiers that make it easy to match music the emotional tone of your project. And then you can stack a whole bunch of technical modifiers like track length, energy, arc (which is really cool), and instrumentation on top of those results to narrow the search even further.
Unique music of the absolute highest quality, including some dope vintage stuff. Thanks to the handpicked roster of indie artists, Marmoset might be the only service to offer music you won't find anywhere else.
A "Marmoset Radio" button that plays random tunes from the Marmoset library. It probably won't surface the exact song you're looking for, but I almost always love what I hear when I click that button.
Marmoset isn't just a licensing platform, but a full service music agency and studio. If you need custom music for any type of project, they can get you taken care of, either by pairing you with their artists, or by composing something bespoke in-house.
The not-so-good
Marmoset songs get super pricey quickly, especially once you start getting into commercial and broadcast territory. However, the rest of their licensing options tend to be pretty straightforward and reasonably priced. They even offer a dedicated podcasting license for a super affordable price. If you're looking for how to license music for commercial use affordably, Marmoset may not be the best for you.
It looks like Marmoset have removed some of their search filters since the last time I updated this article. They used to have story and character-driven search modifiers that were great at unearthing songs when you weren't quite sure what you were looking for. You can still do that to some extent with project based modifiers, but I found the story and character ones to turn up interesting results.
No subscriptions here. If you're wanting "all you can eat" access to a music library, you'll have to look at literally any of the options on this list.
The font they used in their recent redesign can only be described as… fugly. There, I said it.
---
Soundstripe – An extremely enticing subscription offering
(Rob's affilate link) Soundstripe is another great offering in the realm of unlimited music subscriptions and best music licensing sites. And though they started as a less expensive music licensing platform alternative to Artlist, their service has evolved quite a bit in the last few years.
Soundstripe pricing has two subscriptions tiers. The first, like I mentioned, is a basically what Artlist offers, but less expensive. For $135 per year, you get unlimited access to the music, and you can use it however you want in your videos, even commercially and in broadcast. If you're on a super tight budget, but needs loads of music, it's the best choice.
The second tier is the more interesting one to me as an indie filmmaker. For $245 a year, not only do you get the unlimited music (and some early release stuff), but you also get the ability to download the individual stems for certain tracks, as well as a library of sound effects.
To my mind, this higher tier really is tailored to filmmakers who need an all in one music/sound effects solution at a reasonable price.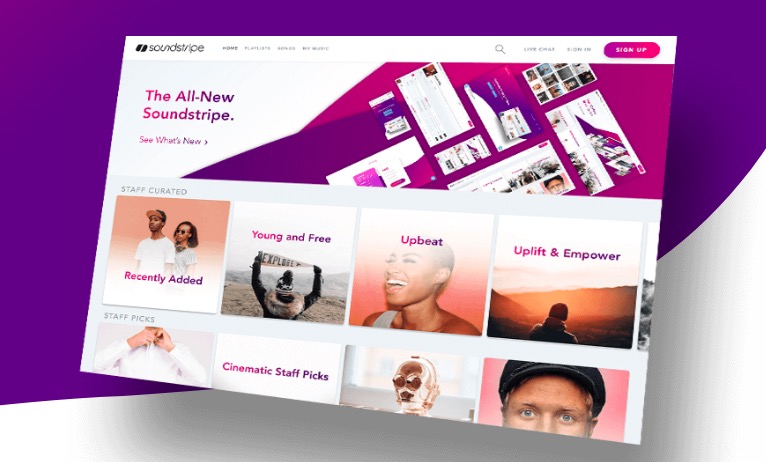 The good
An insanely well priced lower-tier subscription. For $135 a year, you get unlimited access the library, and you can use any song however you want in any video project, from personal to broadcast. It's easily the best bargain on this list.
An flexible higher tier subscription at $245 per year that comes with the goodies listed below.
The ability to download and edit the stems on individual tracks. This means you can essentially go in and create a custom mix of the various elements in a song, or eliminate pieces of it (ie. vocals, drums, or guitar) altogether. For control freaks like me, this is AWESOME.
Sound effects! There are tons of sound effect companies on the market, just like there are music licensing companies. But having a good selection of both under one subscription is just plain convenient and cost effective.
Dead simple licensing. You never have to worry about paying extra for using these tunes in different types of media. It's all covered by the subscription fee.
Their curated playlists are quite good, and that was my favorite part of browsing through Soundstripe.
The not-so-good
Right now, the selection of music is still relatively small, coming in around 4000 tracks. Like all of the others, it's consistently growing, but if you create a lot of content, you will likely run into the "edges" of their library the more you dig through it.
There's a lot of great music on Soundstripe, and no bad music. But there's a good deal of "middle of the road" music that feels pretty average. Maybe it's just because I've listened to so much stock music in my day, and I'm really hard to impress. Either way, if quality and uniqueness are your main priorities, you're better off with Marmoset or Music Vine.
Also, I feel like every time I work through Soundstripe's library, I hear way too much of what I like to call "cheerful hipster music." You know, overly upbeat folk with lots of whistling and clapping and such. I get that style is popular, but every time I hear it, I roll my eyes. That's not really something wrong with Soundstripe, per se. I'm just cynical.
---
Epidemic Sound – An absolutely ENORMOUS library of songs
I was recently introduced to Epidemic Sound (Rob's affilate link), and though I haven't licensed anything from them yet, I like what I see. Their library is HUGE, and the music on their site is damn good.
Like many companies in the space, Epidemic has gone all in a pair of "all you can eat" subscriptions. There's the personal plan, which covers YouTubers and podcasters and other types of digital creators. And then there's the commercial plan, which covers freelancers, song companies, production companies, agencies, and brands. Plus you can still go in and license individual songs if that's your thing.
The other cool differentiator I found is that they pay artists up front for their songs, instead of paying based on licensing performance. If you're a musician reading this article, this little tidbit might be enough to push you into the Epidemic camp. Plus they can get your music to Spotify and other streaming platforms, so they're kind of like an aggregator for musicians.
The good
Two affordable subscriptions, depending on your needs. Creators can access the entire library for $15/month, and freelancers and businesses can access it for $49/month.
World class music, including lots of stuff outside the mainstream. They pay up front for each song, so they're incentivized to curate only the best stuff. From my browsing, this model seems to work well, because I couldn't find any mediocre music.
A HUGE library. Epidemic's been around since 2009, and have clearly been prolific about adding new tunes. Even my searches for weird, esoteric genres turned up dozens or hundreds of results.

Update: The library currently stands at 35,000 songs, and 90,000 sound effects!

They also have a pretty sizable sound effects library. So for some of you, Epidemic could be a "one stop shop" for your post production audio assets.
The not so good
Of all the services on this list, Epidemic's user interface is the clunkiest and most dated. The "Browse" page isn't hard to use, but it can accurately be described as an eyesore.

Update: Since I originally wrote this, they've revamped the entire interface. It's still a tad clunky, but it's much, much prettier now!
---
A few more tips for choosing the best music licensing companies
Music and Sound Quality
When you're creating in film, you want to do everything in your power to make it as good as possible. That means the audio and video should be perfect, and the content should be engaging. But what about the music?
Sourcing the best music is a key component in any compelling media project. While you may have an idea for a soundtrack in your head when you create a video, using an existing song can really drive home the message you're trying to get across and generic stock music websites just don't do the job.
Tapping into the music library of the top music licensing companies on this list can be a cost effective and valuable way to add unique music to your films. But before you do that, make sure the site has what you need, and is able to meet your needs.
The best sites have an on-staff music supervisor to ensure the quality of what goes in, but taste is subjective, quality is not. Before choosing the best music licensing companies by their library size, make sure to check out their sound quality and vibe first.
User Experience
Music licensing for film is tricky. You'll have to sift through a number of different agreements, pick out the right type of license, and hope everything is set up properly with the music publishers or music sync licensing companies. If you're not familiar with the process or haven't done it before, you could end up spending days on the task.
The best music means nothing if you can't figure out how to use the music for your filmmaking projects. Not all of these companies are created equally, so take some time to evaluate yours against these standards:
Navigation. Does the interface provide a clear path through the sync licensing process? Are all of the steps clearly listed? Is each section labeled and easy to find? Do they keep everything organized so it isn't a hassle to find what you need?
Ease of use. How long does it take to get your music downloaded onto your computer or mobile device? How easy is it to understand how to license your music? listen and make changes while you browse? How quickly can you find and license songs that match?
What's easy for one person may not be for another. Remember that it should be easy enough for YOU to use that you don't have to waste an hour figuring out how to buy and download each and every song.
Price
Trying to find the best deal on a music license is never an easy task. Some companies offer subscription plans to license music for videos that grant you unlimited song downloads from their library. Others may offer a membership with a cap on the number of downloads. Still others may focus more on single song downloads.
We aim to be transparent about the pros and cons and affordability of each.
Licensing Agreements
For most businesses, the term music licensing conjures up images of a complicated and expensive process. That's because traditional music licenses are exactly that. They're time-consuming and expensive, and involve navigating through many middlemen and complex legal constructs. All to license music.
Licensing music for your business can be a daunting task, especially if you know little about the music industry or music publishers. That's why we have put together this guide to help you find the best music licensing company.
At the end, you will be able to decide which organizations are the right fit for your business by comparing their features and pricing, from having the best music to how they handle certain issues like music licenses and restrictions.
---
Bonus: Soundsnap (My favorite resource for unlimited sound effects)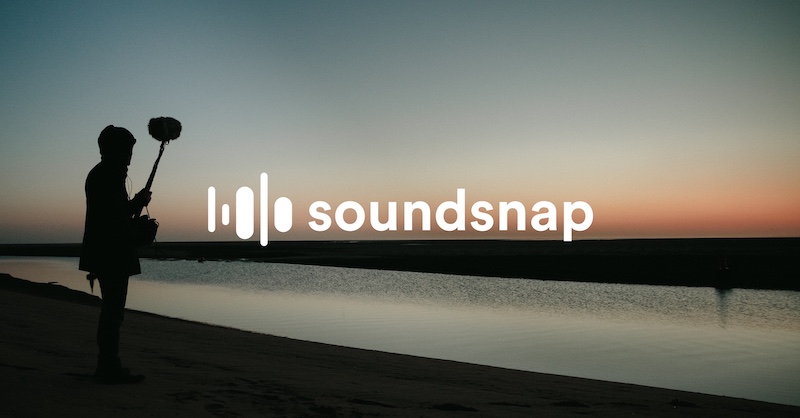 Regardless of the type of project you're working on, music is only one part of the larger audio experience.
That's where Soundsnap comes in. It's a bit like the Artlist of sound effects. For a yearly price, you get unlimited access to more than 220,000 sounds, which you can use to make your projects come alive.
---
That wraps up this exploration of 2022's best options for music licensing companies that don't suck. As you can tell, there's quite a bit of my personal opinion laced throughout this piece. But music is a very subjective thing, as are our preferences for how to sort and find it.
Still, this should give you a great idea of the high-quality services out there that are serving the needs of content creators and helping musicians monetize their work.
---
When you're ready, here are 3 ways you can:
1. Make a feature film today: The No-Budget Feature Film Blueprint
2. Build your network and sharpen your craft in our community: The Backlot
3. Color grade & polish your footage with my post-production tools on: Cinecolor